Marchi 52' Super Alfa Professional
Hypertech dinghy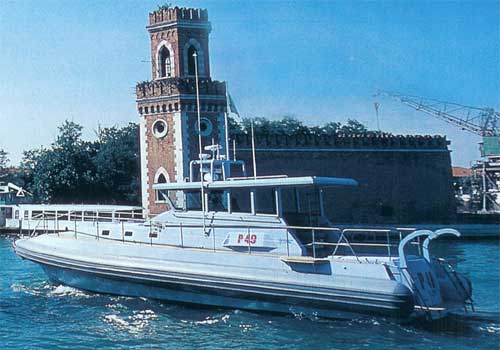 A boat featuring futuristic technologies.
This boat - and we can call her a boat even if it deals with a dinghy with a rigid hull, even if her dimensions are remarkable - has been equipped with a set of computers in the cabin and on the deck, equipped with USC and scart plugs for their interconnection, three flat plasma monitors integrated with the boat navigation system, a GSM system with three-band telephones, a top quality Hi-Fi, vhf, ssb, plotter, radar, automatic pilot, three-data log.




The interiors include a large owner's cabin provided with a wide table, a generous double berth and comfortable capacious wardrobe. The owner's bathroom too is very large (inside the boat is very high) while the guest bathroom is smaller, the dinette on deck can be converted into a cabin with two beds.
All the interiors are made of a special exclusive plastic and the alcantara seats are the only luxury: in fact, the riggings of this boat are deliberately spartan, upon owner's request, with solutions that make her comfortable in any situations according to the owner's navigation requirements.
Upperdeck the high stainless grabrail makes ways safe: they are covered with teak as well as the whole deck, giving a further touch of elegance to the whole.





The sunbathing areas are placed both at bow and abaft; in the middle there is a large deck, upon owner's request, completely open but it can be sheltered in three manners. The first is made of transparent vertically sliding curtains, the second is made of two transparent canvases to put over the roll shutters and the third one is made of an all-round large canvas that allows to completely close the deck.
Abaft there is a compartment for water motorbike and two horizontally pivoted brackets supporting the tender for an easy and practical use; the gangway too is built-in into the transom.

L.O.A.: 16,50m
Beam 5 m
Draft 1,25m
The wole equipment of this boat has been custom-made and upon owner's special request: the boats for pleasure purposes will be equipped in a more elegant and comfortable way, with three cabins, two bathrooms, galley and lounge, maintaining the boat manoeuvrability. Provided with two engines powered with 660 Hp Caterpillar, shaft drive, that allow to reach 2,300 rpm and a top speed of 32 knots.
The pleasure version can be equipped with a more powerful engine, upon request, allowing to reach 38-40 knots.
Realized according to a project carried out by the Studio Yahkee Delta, she is an excellent boat for extreme navigation in a complete safety, also thanks to the advanced technology of the equipment onboard that makes her highly reliable; the control station is easy to handle and tubulars make it very safe.
Performance are excellent as to consumptions and engine options.
---